Hey, Sky Fans!
How's things today? You've probably been hearing a bunch of news about comet C/2020 F3 (NEOWISE), which has been in the morning skies lately. If the photos and all the news stories are anything, it's been absolutely fantastic.
It's been cloudy around my place lately, and my bed's been comfy, so I haven't wanted to gamble with forcing myself on the world that early.
Last night, though, it popped into the evening's skies, low toward the northwest. We had some more clouds and rain here, so I cancelled some plans to guide a friend through finding it. Another thing in the sky, another thing in the sky I'll have to trust someone else to see for me.
But, then, I glanced out the window. "Shirt… stars!" only, I didn't say "shirt."
I raced outside with my binoculars, and started scanning the chunk of sky below the Big Dipper. Just a few days ago, I read this article from the good folks down at Sky and Telescope and got a better idea of where to look. With their guide in mind, I found it in just a couple minutes, just a couple of fingers-at-arm's-length above the trees down the road.
Stunning doesn't begin to describe it. It was really unbelievable. That tail! I think the last time I saw a comet, any comet, was Hale-Bopp in… what was that? 1995? We was kids! Or was that the one that smashed into Jupiter? Still, decades; plural.
I called my wife and kids, and there we stood. Through all the turmoil and upheaval of these last few months — and it has been hard, and it has been exhausting — we had this moment under the Big Dipper, staring at a snowy ball of rock and dirt 70 million miles away. For the first time in what seemed like forever, we had a moment.
As everyone grabbed for the binoculars, I stared at the spot where I was looking when I looked through them. Out there, I could see it among the stars. I could see it with my naked eye! I could see its tail, too! A naked-eye object even in my New York City suburban sky?! I mean, I know the city was actually behind me, but still, it's not far.
As you know, I'm not much of an astrophotographer, but I set the camera to Auto, sat it on top of my… auto, crossed my fingers and flipped the shutter. Here's a crop of what I got. First try!
That's at about 10:00pm local time, and the majestic flare there is just the street light down the way. It's nothing more exotic than that, but it shows you how much sky glow those things cause. Every little bit adds up. So, maybe we don't need all of them, you know?
So, now it's over to you. Comet NEOWISE will be visible in our night skies for the next week or so. If you have a good patch of sky below and alongside the Big Dipper, you may be able to find it if you head out starting around an hour after sundown. Here's the finder chart in that Sky and Telescope I linked to above.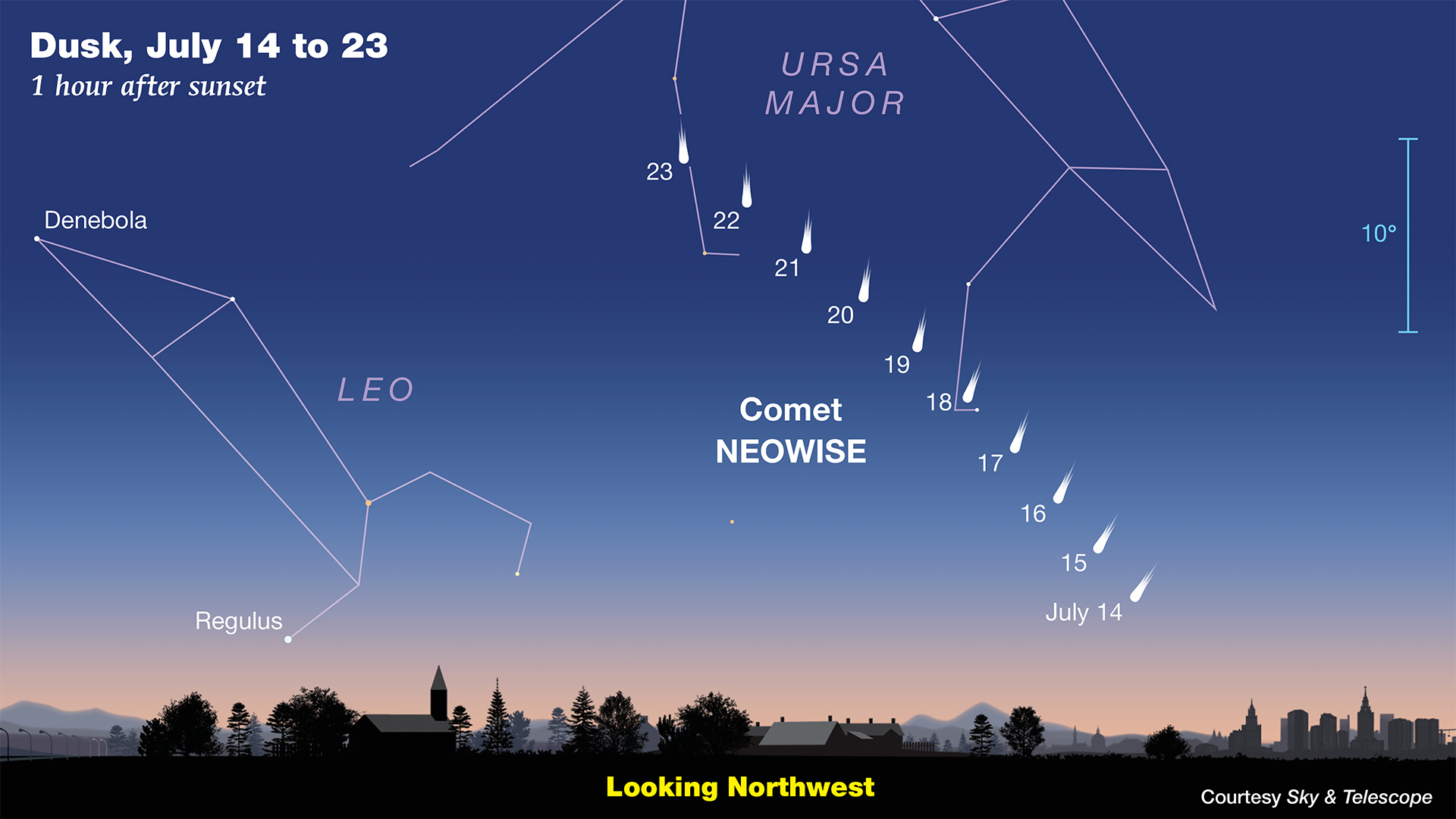 This is one of those things that really lives up to the hype that it's been getting, whether you've never seen a comet before, or if you see them all the time. It's truly gorgeous and, at least for today, put a smile on my face and got me writing… at least for today. Maybe it can do the same for you.
I hope you head out and can spot it. Let me know how it goes.
Clear skies, everyone!